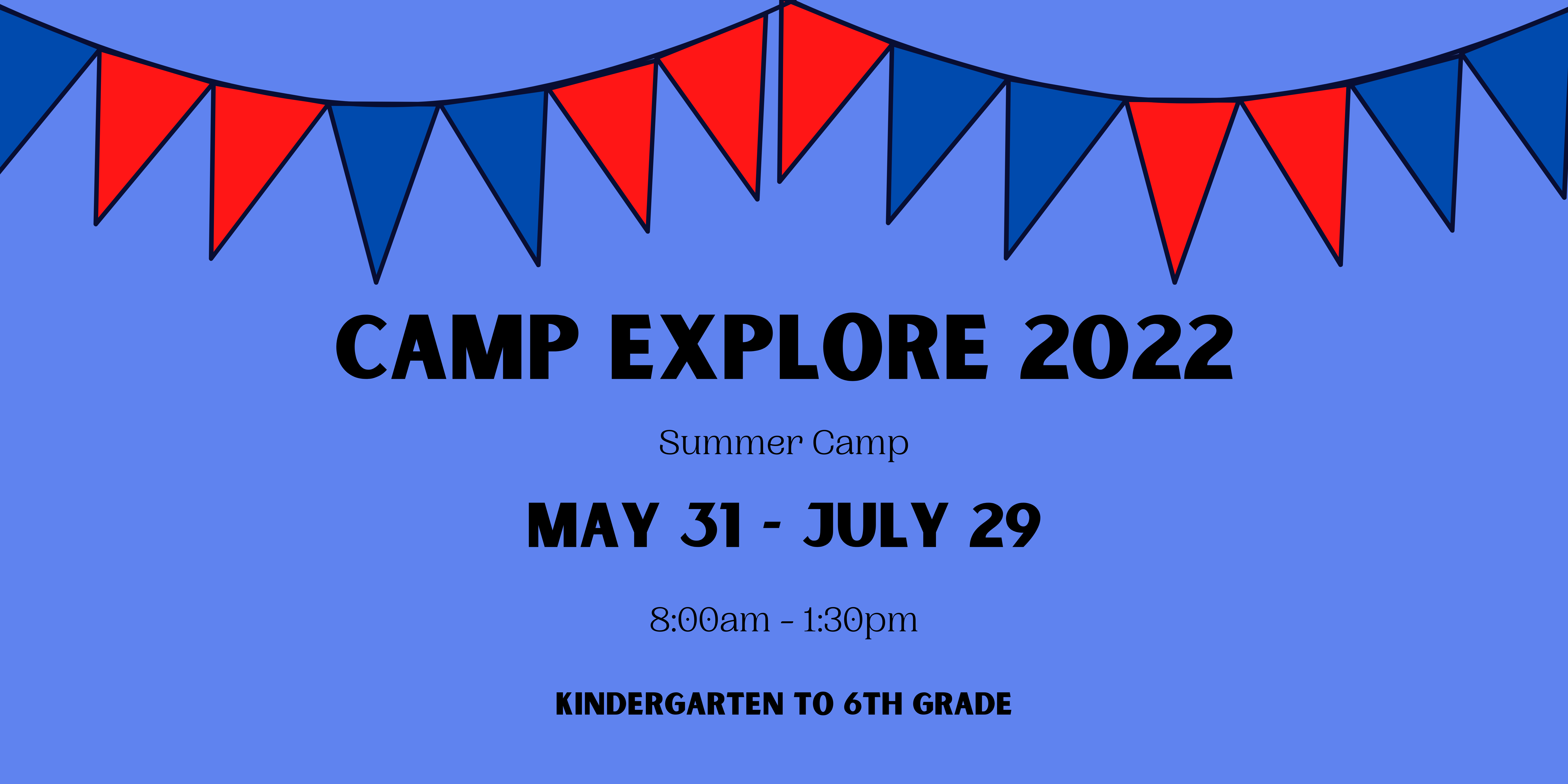 WELCOME TO THE OFFICIAL PAGE FOR CAMP EXPLORE 2022! WE ARE EXCITED TO OFFER ANOTHER FUN AND ACTIVITY FILLED SUMMER FOR STUDENTS IN THE HUGOTON SCHOOL DISTRICT. OUR GOAL IS TO OFFER A FUN, SAFE AND ENCOURAGING PLACE FOR STUDENTS TO BE DURING THE SUMMER MONTHS!
Bienvenidos a la página oficial de el Campamento Explore 2022! Nos complace ofrecer nuevamente este año actividades divertidas este verano para los estudiantes de la escuela del distrito de Hugoton. Nuestro objetivo es ofrecer un lugar divertido, seguro y alentador para cada estudiante durante este verano!
DATES: MAY 31 - JULY 29
TIME: 8:00-1:30PM (BREAKFAST (7:30 - 8:00 AM) AND LUNCH (12:00 - 12:30 PM) OFFERED)
DAYS: MONDAY - THURSDAY (REGULAR CLASS SCHEDULE) & FRIDAYS (FIELD TRIPS)
GRADES: KINDERGARTEN TO 6TH GRADE
Fecha: Mayo 31- Julio 29
Horario: 8:00-1:30 (desayuno 7:30-8:00 am) Almuerzo (12:00 -12:30 pm)
Días: Lunes - Jueves (Horario regular de clases) y Viernes (Excursiones)
Grados: Kinder al 6to grado
ON THIS PAGE, YOU WILL FIND ALL THE INFORMATION YOU WILL NEED TO KNOW ABOUT CAMP THIS SUMMER. AT THE BOTTOM OF THIS PAGE, YOU WILL FIND A LINK TO A GOOGLE FORM THAT YOU WILL USE TO SIGN YOUR CHILDREN UP FOR CAMP. (PLEASE MAKE SURE TO FILL THE FORM OUT ONE TIME PER STUDENT) ENROLLMENT IS LIMITED SO IF YOU WOULD LIKE TO SIGN UP YOUR KIDS, DO IT AS SOON AS POSSIBLE!
En esta página encontrará toda la información que usted necesita saber acerca del campamento de este verano. Al final de esta página, usted encontrará un enlace para un formulario en google que usted usará para inscribir a su hijo(a) en el campamento. (Por favor asegúrese de llenar un formulario para cada estudiante)
Las inscripciones son limitadas así que si quiere inscribir a sus hijos, hágalo lo más pronto que pueda!
WHEN YOU SIGN UP FOR CAMP, YOU WILL HAVE THE OPTION TO CHOOSE WHICH WEEK(S) YOUR CHILDREN WILL ATTEND CAMP. PLEASE MAKE SURE TO MARK ALL APPLICABLE WEEKS, EVEN IF THEY WILL ONLY BE ATTENDING FOR A PARTIAL WEEK. DOING THIS WILL ALLOW US THE OPPORTUNITY TO BUILD AN APPROPRIATE SCHEDULE FOR ALL STUDENTS IN THE PROGRAM!
Cuando se inscriban en el campamento, tendrán la opción de escoger qué semana(s) sus hijos asistirán al campamento. Asegúrate de marcar cada semana sin importar que no asistan la semana completa. Así nos dará la oportunidad de hacer los horarios para todos los estudiantes en el programa!
PLEASE NOTE THAT IF YOU SIGN YOUR CHILD UP FOR CAMP EXPLORE, THEY WILL BE SIGNED UP TO COME FOR THE FULL DAY. LET US KNOW IF YOU ARE PLANNING TO PICK UP YOUR CHILD EARLIER.
Tenga en cuenta que si inscribe a sus hijos en el campamento Explore, estarán inscritos para asistir el día completo. Háganos saber si va a recoger a su hijo antes de la hora de salida.
THE FOLLOWING WEEKS WILL BE OFFERED FOR CAMP THIS YEAR:
PLEASE NOTE THAT UNLIKE LAST YEAR, YOU WILL BE SIGNING UP FOR SPECIFIC DATES AND NOT SPECIFIC CLASSES
Las siguientes son las semanas que se ofrecerá el campamento esté año:
DATES FOR SUMMER 2022
Fechas para el verano 2022
May 31 - June 3 (Tues - Friday) Mayo 31-Junio 3 (Martes-Viernes)June 6 - June 10 Junio 6 - Junio 10June 13 - June 17 Junio 13 - Junio 17June 20 - June 24 Junio 20 - Junio 24June 27 - June 30 (Mon - Thurs) Junio 27 - Junio 30 (Lunes -Jueves)July 5 - July 8 (Tues - Friday) Julio 5 - Julio 8 (Martes - Jueves)July 11 - July 15 Julio 11 - Julio 15July 18 - July 22 Julio 18 - Julio 22July 25 - July 29 Julio 25 - Julio 29
FUN FRIDAY FIELD TRIP DAYS: (SUBJECT TO CHANGE)
PLEASE INDICATE ON SIGN UP FORM WHICH DATES YOU WOULD LIKE YOUR STUDENT TO ATTEND, OFFICIAL SIGN UPS WILL BE DONE THE WEEK PRIOR TO THE FIELD TRIP. STUDENTS WILL BE RESPONSIBLE FOR THEIR ADMISSION TO LONG BRANCH LAGOON AND PARROT COVE.
Viernes de Excursiones (sujeto a cambios)
Por favor indique en el formulario los días que su hijo va a ir a las excursiones, las inscripciones oficiales se harán una semana antes de la excursión. Los estudiantes serán responsables de pagar por su entrada a Long Branch Lagoon y a Parrot Cove.
Hugoton City Pool: June 10, June 24, July 15, July 29
Time: 8:00 - 12:00 pm
Long Branch Lagoon: June 17 and July 22
Time: 7:30 - 4:00 pm
Parrot Cove: June 3 and July 8
Time: 7:30 - 3:00 pm
THE FOLLOWING IS AN EXAMPLE LIST OF CLASSES THAT STUDENTS IN CAMP WILL GET TO EXPERIENCE*:
El siguiente es un ejemplo de una lista de clases en la que los estudiantes podran participar en este campamento*:
MATH**, READING**, PUZZLES, CARD & BOARD GAMES, OUTDOOR GAMES, GARDENING, TEAM BUILDING, DRONES/ROBOTS(5/6TH GRADE), COOKING, CREATIVE WRITING, IMPROV, GRATITUDE/KINDNESS, CROSS-STITCH, LEGOS, NATURE CRAFTS, TUBANO DRUMS, UKULELE & MORE!
Matematicas**, lectura**, rompecabezas, juegos de mesa, juegos al aire libre, jardinería, trabajos en equipo, drones/robots(5/6 grado) Cocinar, escritura creativa, improvisar, gratitud/amabilidad, punto de cruz, legos, manualidades de la naturaleza, tambores tubanos, ukulele y MUCHO MÁS!
*Class offerings are subject to change*
**STUDENTS WILL HAVE AT LEAST 30 MIN OF MATH AND READING EVERY DAY MONDAY - THURSDAY**
*Las clases que ofrecemos estarán sujetas a cambios*
**Los estudiantes tendrán por lo menos 30 min de matemáticas y de lectura CADA DIA de lunes a jueves**
IF YOU HAVE ANY QUESTIONS, PLEASE EMAIL SAM MCINTOSH AT SAMANTHA.MCINTOSH@USD210.ORG
Si tiene alguna pregunta, por favor mande un correo electrónico a Sam McIntosh a samantha.mcintosh@usd210.org
CLICK THE LINK BELOW TO SIGN UP:
https://docs.google.com/forms/d/e/1FAIpQLScBWZZQTierpAfKHHbKYSxqIZioUFTJja2D-7u-caeb_m94RA/viewform?usp=sf_link