The final Hugoton HS Site Council meeting will be on Monday, May 9, 2022 at 4:00 in the front office conference room at HHS. Parents are invited to attend and hear an end of the year wrap up of our accomplishments and to ask questions and concerns as we plan for next year.

The USD 210 Board of Education will meet on Monday, April 25 in a special meeting to discuss and take action on the district's health insurance renewal. Health Insurance is the only item on the agenda.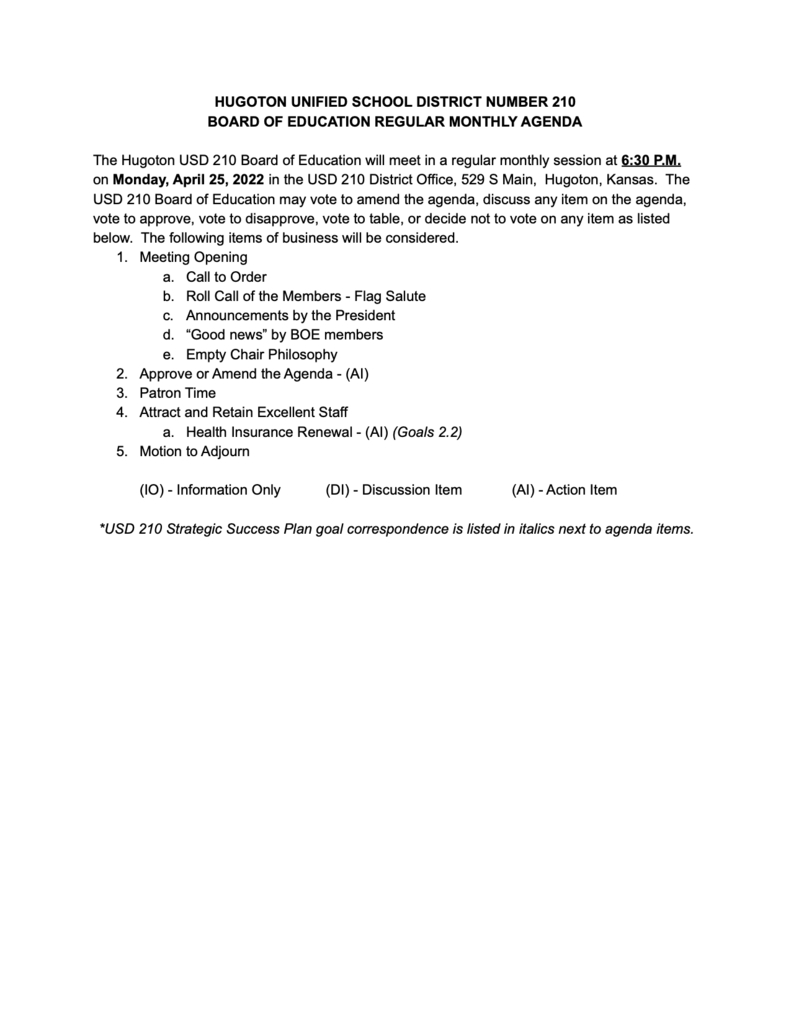 The track meet that was scheduled for today, 4/22/2022, at Holcomb has been cancelled. Once it is rescheduled, we will communicate that date.

HHS weekly activities calendar for 4/18-4/22/2022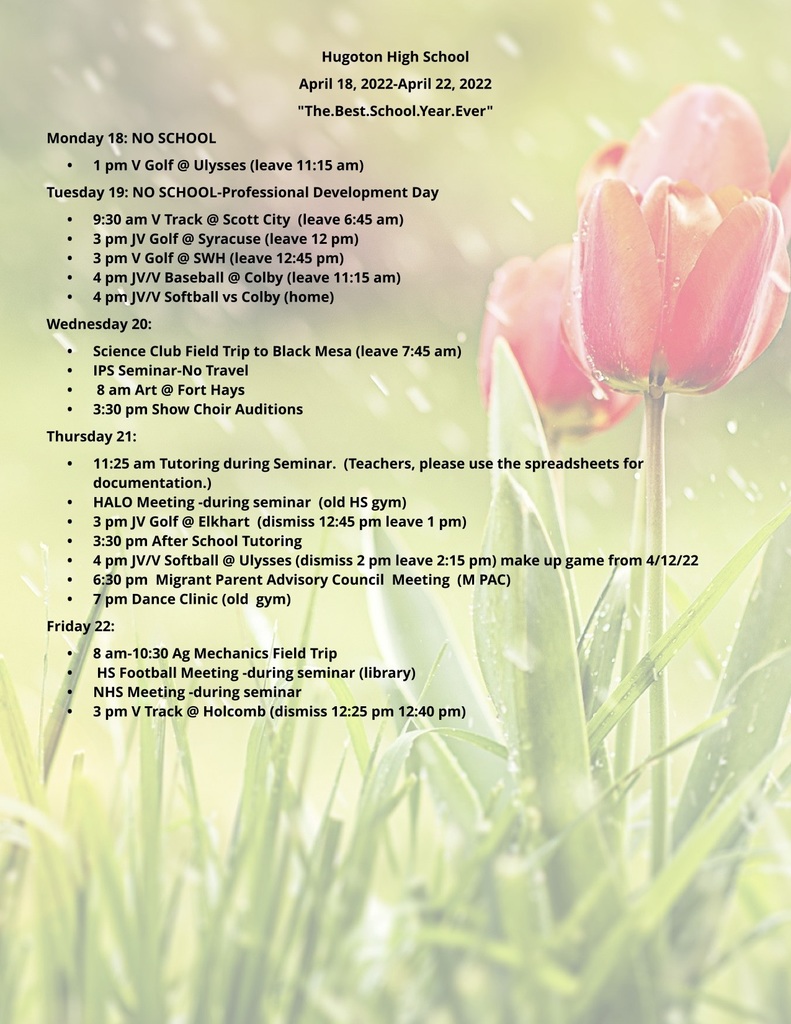 HHS Awards Ceremony on 5/4/2022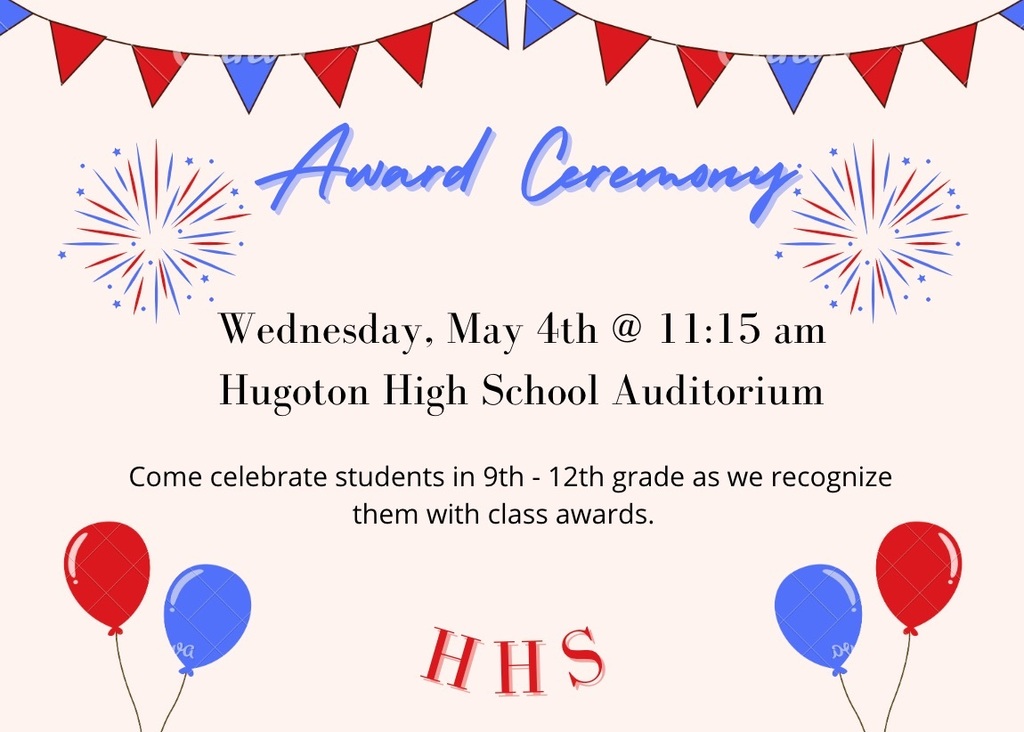 The games today have been postponed to the following dates: Softball April 21 @ Ulysses 4PM Baseball May 12 HOME 4PM

Our home MS and HS track meet is coming up on April 29th. We are looking for track workers to help with field events for this event. If you are interested, please call Tina Salmans at 620-544-4341 or email
tina.salmans@usd210.org
.

HHS Activities Calendar for 4/11-4/15/2022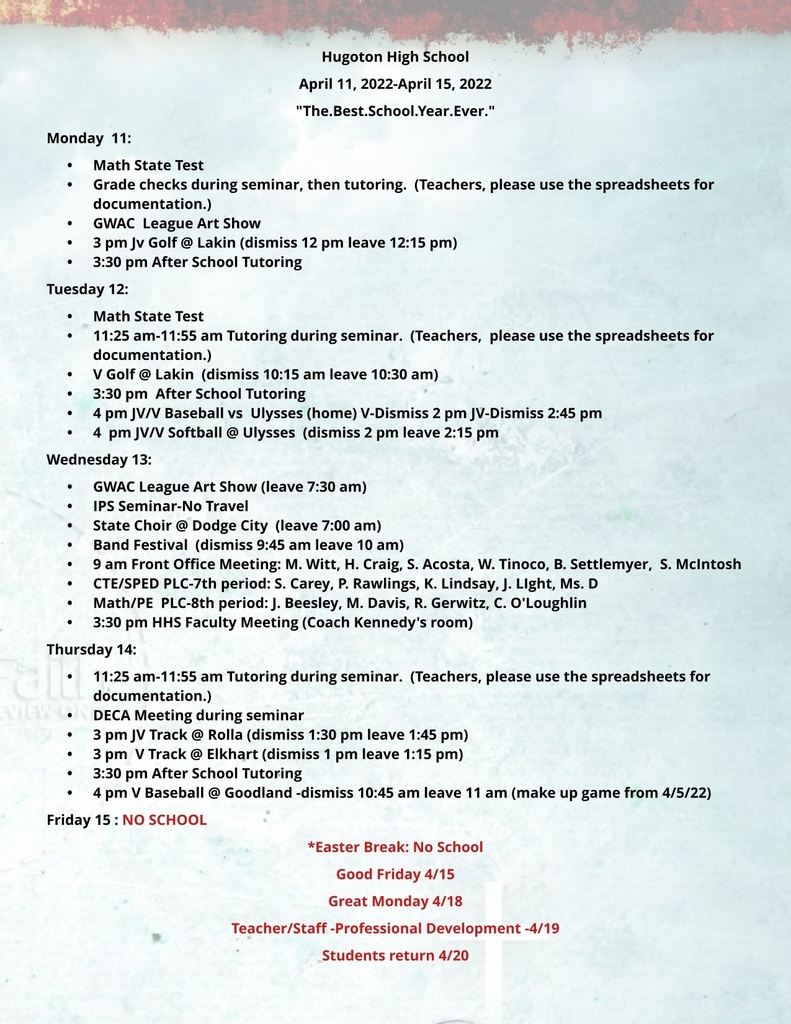 Due to potential wind gusts over 60+ MPH, the softball and baseball games scheduled for today (4-5-22) in Goodland, have been postponed. This is for the safety of our athletes, coaches, and bus driver.

HHS Activities Calendar for 4/4/2022-4/9/2022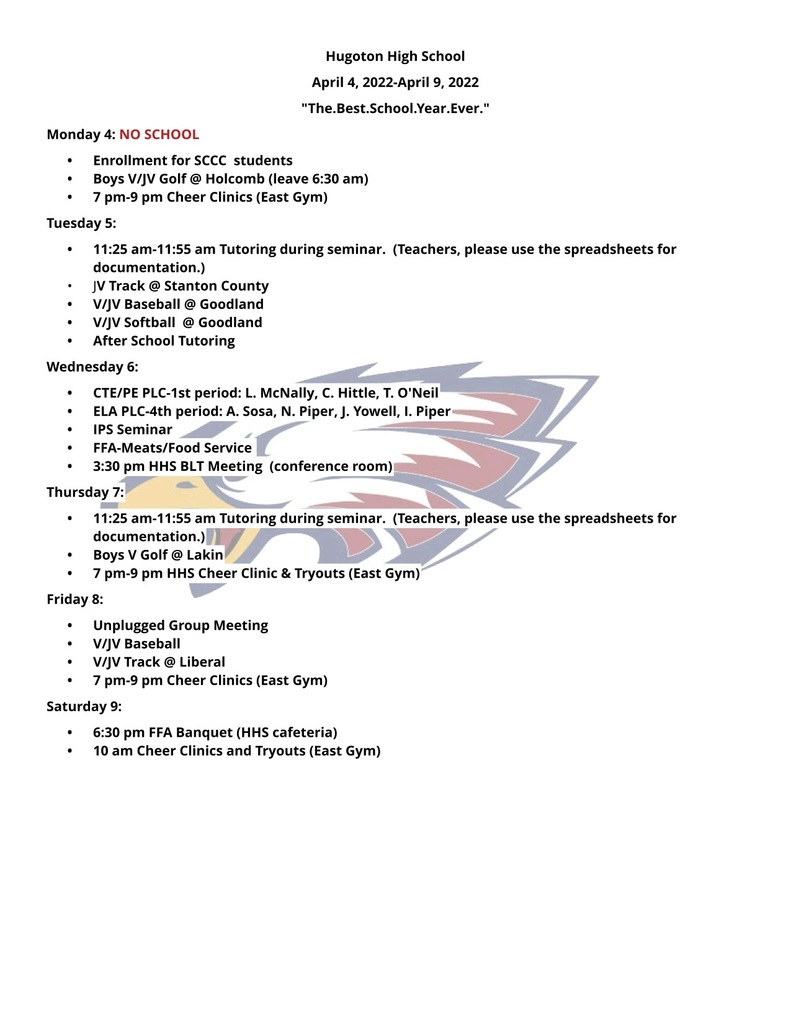 Power is restored. Schools is back in session tomorrow. Thank you to the city for all their work today.

Reminder: No school for USD 210 on Monday, April 4, 2022.

Due to a shortage of KSHSAA certified umpires in our area, the varsity baseball games versus Goodland on Tuesday have been moved to Goodland.

Calendar Change Alert: There will be no school on Monday, April 4. Please see the following letter for more information.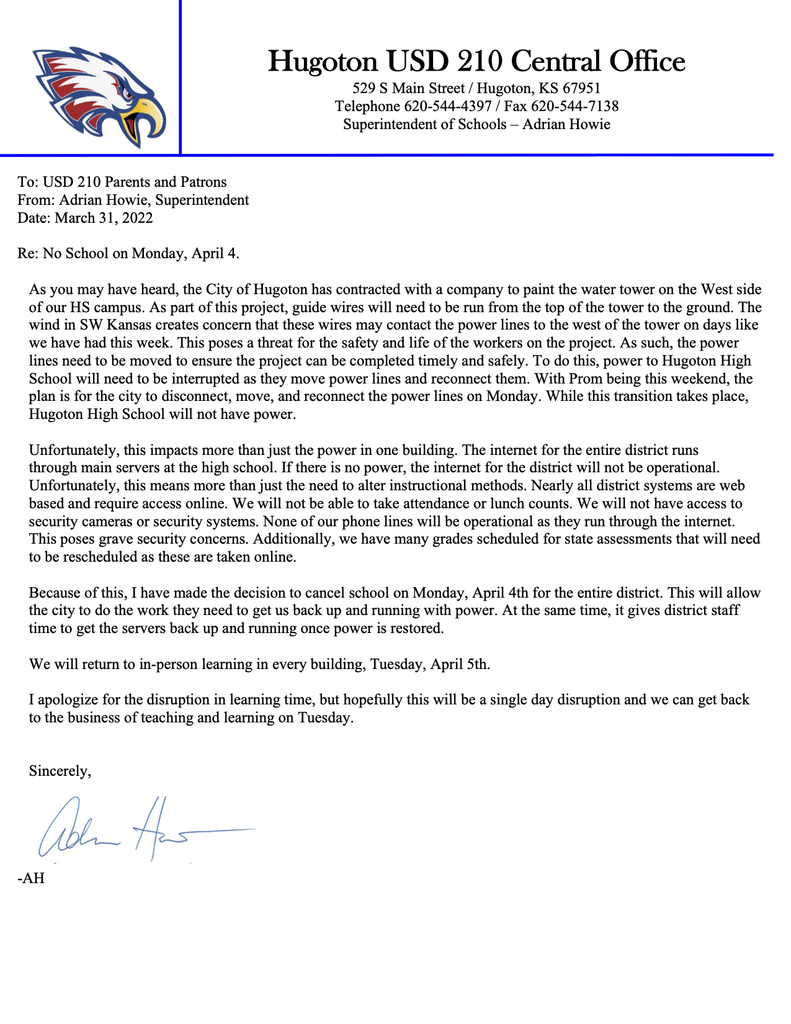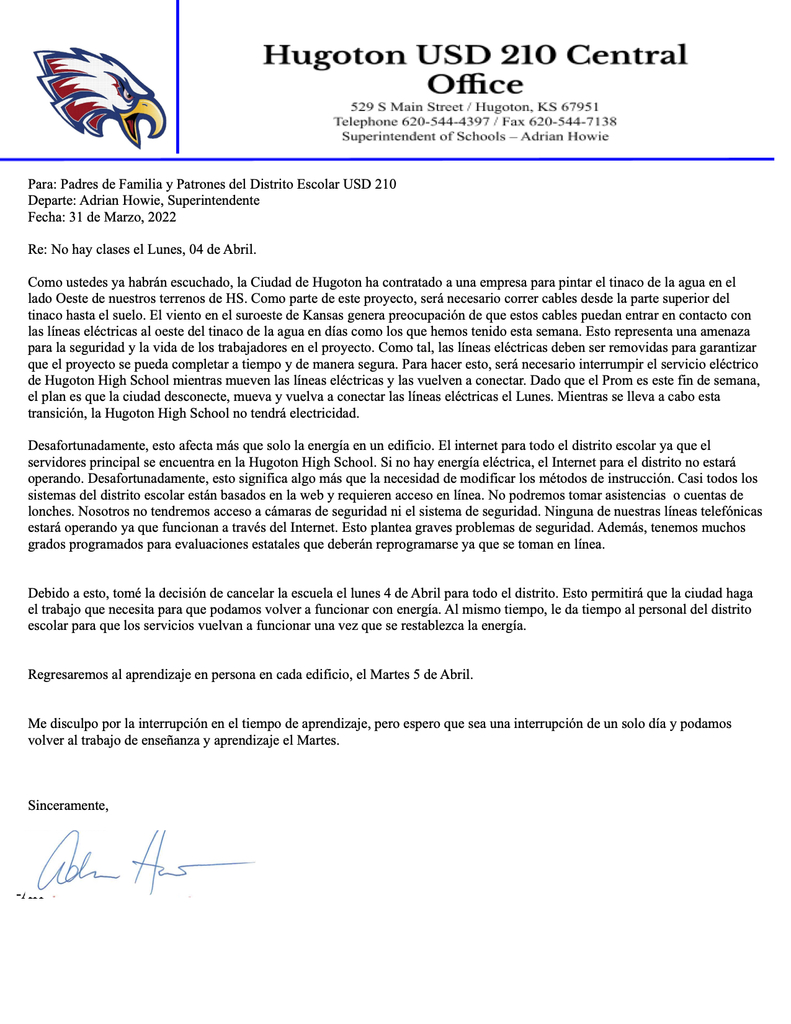 Update to the softball games versus Holcomb for 4-1-22: Games will start at 3 and it will be a double header.

The softball games for today have been postponed. The baseball games in Holcomb will still be played.

HHS Weekly Activity Calendar for 3/21-3/26/2022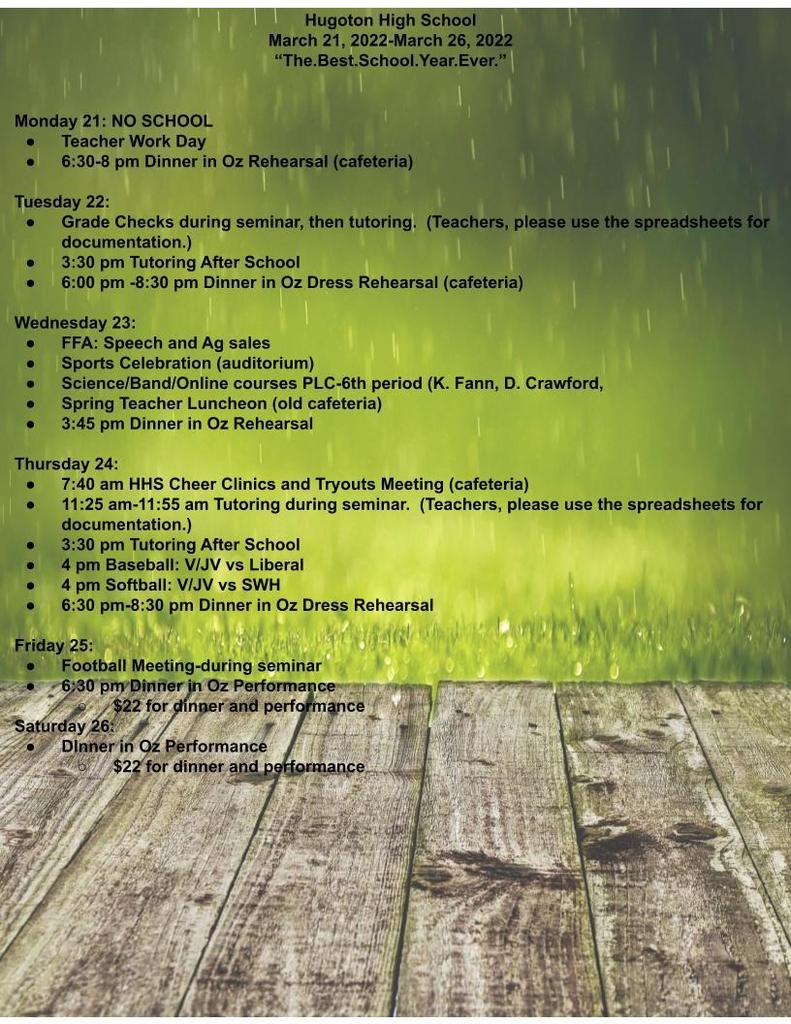 We want to celebrate the recent state activities/accomplishments that HHS has been a part of. Please join us at 11:35 AM in the auditorium to celebrate our state successes in winter sports.

Spring sports are upon us. If you are interested in being a score keeper or an announcer for baseball or softball, please email
tina.salmans@usd210.org
. Thank you for supporting our HHS spring sports.

Roads have some snow on them. Slow down and give yourself some extra time on your way to school today. #WeR210